EVERYDAY FLIGHTS from Cebu to BANTAYAN ISLAND, BOHOL, SIQUIJOR & SIPALAY
Why go to Caticlan? When you can fly to Bantayan! And only 45-minutes away! Bantayan Island is known as the "Boracay of Cebu" only much better because aside that the place is not mainstream. All the privacy is yours and your loved ones. at the same time you'll enjoy the white sandy beach. Why waste your time on the 6-hour drive and ferry barge? when you can 1. Fly like a VIP 2. Have your own privacy 3. and 45-minutes flying time only! So what are you waiting for? Book Now! @ www.AirIslandTour.com the Beauty of Bantayan Island is waiting for you. for only 4,999 PHP per passenger, one-way trip, Minimum of 2 Passengers Only "Discover Greatness In A New Perspective!" #FlightstoBantayan #flightstoBantayanIsland #CharterFlights #AirIslandTours #RoyhleAirwaysCharter, #EVERYDAYFLIGHTS
Follow to where Your Heart Calls! Fly the Island of Bohol! "Bohol" a land of history and natural beauty . The capital city "Tagbilaran" also known as the "City of Peace and Friendship!" because of the smiling people around. There's a lot of places to explore in Bohol, *with its rolling chocolate hills , crystal springs and beaches,dive spots , old stone churches , and get to meet and greet with their popular little friend " The Tarsier!" Don't miss out Bohol's crystal beaches especially the Panglao Island! How to get there by avoiding the 2-hour travel through bus and barge? You can fly Bohol for only 30 minutes! But wait! There's more! Enjoy the MANGROVE PLANTATION ! -an insta-worthy picture to post as you fly across it on your way to Bohol. The fun and excitement is waiting for you. what are you waiting for?.
Thirsty for Adventure? Then Fly to Siquijor! Siquijor Island is known as "Isla Del Fuego" meaning the Island of Fire.
Also the place full of Mysteries. A mixture of Thrill and Adventure. The place is known because of their waterfalls, beaches, old cultural churches and Fish Spas! And a lot more places which are instagram-worthy to post.
1. Avoid the 8-hour travel -bus and ferry barge.
2. No need to go to Santander Liloan Port or fly Dumaguete city When you can fly Cebu directly to Siquijor Island for less than an hour!
Not only you can experience the Comfort and the Luxury but also have your own Privacy.
Fly and Discover the Jewel of the Sugar Island Sipalay City!
Explore the Beauty of its Marine Aquaculture to their famous Dive spots
The city is known for its tourist destinations. An example of it is the now-defunct Maricalum Mining Corporation which happens to be one of the largest mining companies in the country. It now has a park dedicated for viewing the whole mine from atop.
It also boasts beautiful pristine beaches being a seaside city. Dubbed as the New Boracay, foreign and local tourists flock its beaches the whole year round for not only for swimming but for diving as well.
"Greatness in Island Connection is about to be Discovered in a New Perspective"
We are please to announce that in Air Island Tours Partnership with Royhle Air Way Charter Inc
Now Flies its EVERYDAY from CEBU to these island destinations at an affordable Rate!
Now Flies Everyday Cebu to BANTAYAN ISLAND, BOHOL, SIQUIJOR & SIPALAY
Visit www.AirIslandTour.com and book your Charter Flight Now
CEBU - BANTAYAN or v.v. for only 4,999
CEBU - BOHOL or v.v. for only 3,999
CEBU - SIQUIJOR or v.v. for only 6,999
CEBU - SIPALAY or v.v. for only 5,999
established RATES @ Per Passenger ONE WAY, MINIMUM OF 2 PASSENGERS , EVERYDAY
WE NOW FLY EVERYDAY TO & FROM BANTAYAN ISLAND
For more info contact us at +639228555574
"Discover Greatness of Bantayan
in a New Perspective"
Book Now! @ www.AirIslandTour.com for only Php 3,999 per passenger, one way trip, Minimum of 2 passengers Everyday Enjoy and fly to the land of History and Natural Beauty, Bohol! "Discover Greatness in A New Perspective!" Share your story with us by using the #hashtags #FlightstoBohol #CharterFlightsInCebu #charterflights #AirIslandTours #RoyhleAIrwayCharter #EVERYDAYFLIGHTS
"Discover Greatness of Bohol
in a New Perspective"
Enjoy and unravel the Mystical Island of Siquijor. "Discover Greatness in A New Perspective!" Share your story with us by using the hashtags #FlightstoSiquijor #CharterFlightsInCebu #AirIslandTours #RoyhleAIrwayCharter #CebutoSiquijor
#EVERYDAYFLIGHTS
"Discover Greatness of Siquijor
in a New Perspective"
WE FLY EVERYDAY WITH OUR NEW ROUTES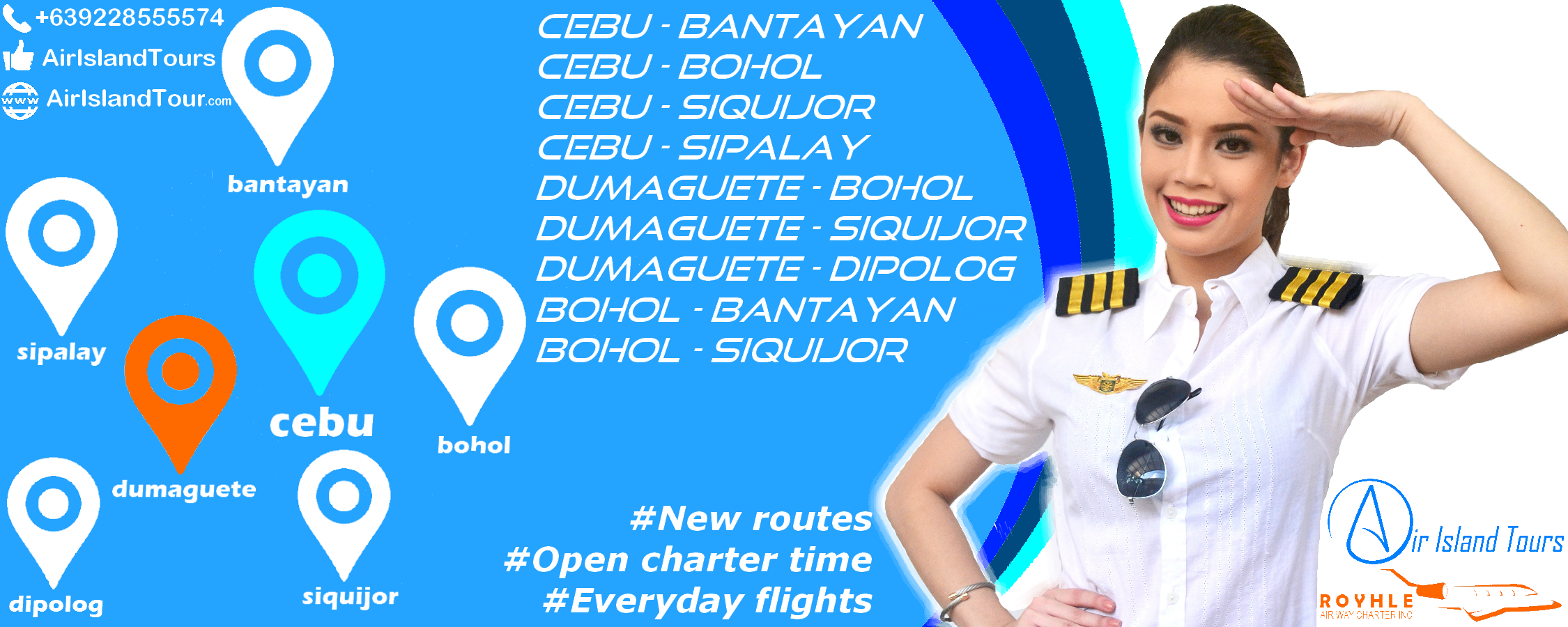 Book your Group Here